DR Congo: Oil company threatens gorilla forest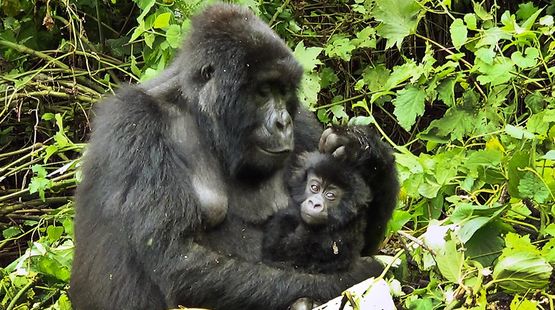 Gorilla family in Virunga National ParkThe dense montane rainforest in the Virunga National Park is one of the last remaining habitats of the endangered mountain gorillas. Virunga is located in the eastern part of the Democratic Republic of the Congo and is the oldest national park in Africa. The park, about twice the size of Rhode Island, and along the shores of Lake Edward, was designated a World Heritage Site by the UNESCO. In addition to the gorillas, it is home to other endangered species. 
Now the national park, the gorillas and the people living along the lake face an existential threat.
In late 2011, the UK-based oil company SOCO was granted exploitation rights for oil blocks in the eastern part of the Congo. Up until then, an exploitation moratorium had been in place for the country's sensitive rainforest regions. Sixty percent of Block 5 covered by SOCO fall within the borders of Virunga. As Ephrem Balole of the park administration said: "The company has received a permission to start exploration in the park by presidential decree. However, law prohibits the exploitation of natural resources within the park."The park administration and the local population have joined forces in an attempt to prevent the drilling, which would destroy large parts of the Virunga rainforest and also threaten Lake Edward. The lake provides the livelihood of many people in the region. 
The UNESCO has issued a sharply worded note of protest to the Congolese government, declaring the oil drilling to be in violation of international law.
 The EU is providing funding for Virunga, but to date, only a small group of members of the European Parliament has issued a resolution against the drilling activities planned in the park.
Please write to the responsible institutions and demand the preservation of Virunga National Park.
To: The Board of Directors, SOCO International plc, The President of the Democratic Republic of the Congo, The European Commission, Directorate-General for Communication
Start of campaign: Dec 21, 2012
Source: Rainforest Rescue